Good morning Sunshine! My challenge for today is to create a card using watercolors! You could make a background out of watercolors, paint a watercolor image for your card, use a watercolor as an embellishment. Anything that inspires you as long as you have used watercolors. For my card (I found a watercolor video of this technique on line) I stamped the "Thanks" using Versa Mark Ink and heat embossed it, then I water colored over the stamped image and just let the colors do their thing. Added some 'bling' and Viola' and it was just so much fun.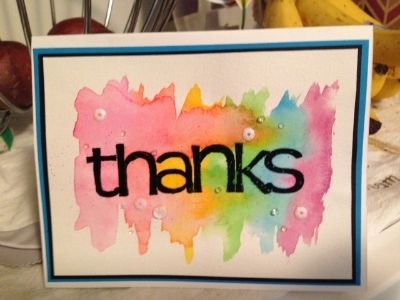 I hope you have fun with this and I simply cannot wait to see what you come up with!
Please create something different for each challenge you enter for this crop. You have until Tuesday, May 5 at midnight PST (gives you a couple more hours this time) to upload a picture of your creation for this challenge to be entered into a drawing for a prize. Thank you for playing along.
1. Terrie
2. Ellie
3. Sheri
4. Trudi
5. Marilyn
6. Golda
7. Susie --- WINNER!!!
8. Kathy