This is a non-card challenge (no cards or tags). Make something out of paper to decorate your house with for the holidays. Need ideas? Wreaths, ornaments, wall hangings, banners, paper trees, etc. Pintrest has a Santa sack full of ideas to get you started.
Can't decide if I want to keep this or give it as a pet sitting thank you. The colors are great for my bathroom.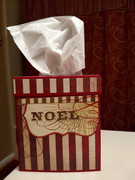 You have till midnight 10/22 to post your project to be entered into a drawing for a prize.
Decorators:
1. Trudi
2. Terrie
3. Golda
4. Jane
5. Kathy