Start with a black or navy blue background and proceed with the technique of your choice.
I started out doing a glimmer watercolor on black but the colors weren't showing up very well so added some colored pencils to the mix.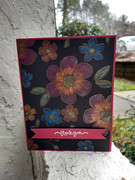 You have until Midnight Sunday, 1/19 to post your creation to be eligible for a random drawing prize:
1. Terrie
2.
3.
4.