Hello All! I hope that you enjoyed a wonderful Easter weekend.
I am posting a little early as I have a busy day tomorrow and don't want to forget!
My challenge continues our Spring themed challenge, this time encouraging you to share one of your favorite signs of Spring. Maybe it will be your favorite flowers bring the first wonderful shouts of color from the earth? Busy bees or fluttering butterflies? Tell us about what your card depicts... and, if desired, why it brings you joy.
For me, a favorite sign of spring is that I get to pack my heavy winter clothes away... and welcome the much lighter clothing from the back of my closet. I also like to shop for at least a few new blouses or dresses, usually in bright floral colors and patterns. So my card features a dress shop that shows off a few new Spring fashions in the front window. How fun is that?!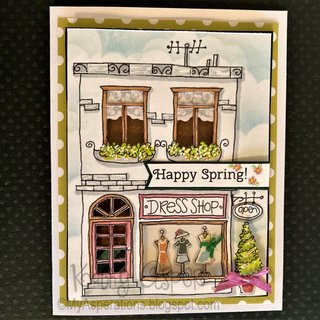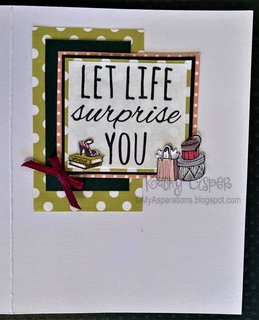 To enter the challenge, please post your creation (card, tag, gift bag, etc.) here before 8 AM on Monday April 12th. I'll then use Mr. Random to help pick a winner who will receive a small prize from me. I can't wait to see what you share!
Entrants-
1. Elaine
2. Terrie
3.
4.
5.