Sorry for the delay! Hope all of you have finally gotten rid of the snow and have some color popping out of the ground. This week, I want to see oodles (technical term) of flowers.
It's lilac time in NY so here's my homage to the gorgeous lilacs: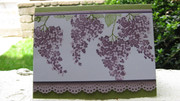 Anyone posting their project by Sunday 5/13 midnight is put into the drawing for a small prize.
Players:
1. Terrie
2. Ellie
3. Kathy
4. Golda
5. Linda Jo