This week's challenge is to go through your embellishment box, drawer, closet, or room!!! to find some embellishments just hanging around waiting to be used. I was motivated one day to use up a bunch of stuff I've had for a while and found these fish stickers that I made into cards: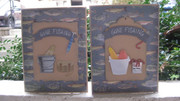 Then I found these card candies (I think from Linda Jo) from a swap last year and made these cards:
I made probably a dozen cards that day using things up that had been sitting around. So your challenge is to pull out some old embellishments and finally get them out of your stash. I can't imagine that any of us don't have some but if you are completely out, make one.
You have until Sunday, March 3rd to post a photo of your project to be eligible for a prize drawn at random.
Potluck Players:
1. Trudi
2. Terrie
3. Golda
4. Kathy