Your challenge this week is to pick a row (vertically, horizontally or diagonally) and use the 3 elements to make a card. (If it's difficult to read, click on photo to enlarge. then you can arrow back to page.)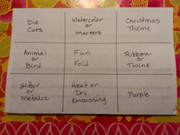 I picked die cuts, fun fold (double Z joy fold) & purple (though it also turns out to fit in Christmas Theme, fun fold & glitter line as well).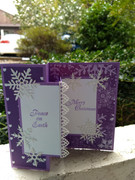 You have till Sunday 11/10 midnight to upload your photo to be eligible for a prize drawing.
Toe Players:
1. Terrie
2. Golda
3. Kathy
4. Trudi