Hello. I'm posting this a little early because I have an early morning meeting tomorrow.
Last week we made gift bags/items. This week, I invite you to make a treat bag topper. You can fill ziplock bags with treats or small items and attach one of these toppers, made with a folded piece of cardstock. Or... like me, you can make a topper and use it to "dress up" a gift item. I picked up some rose-scented bath salt for my Secret Santa at the office, and added a pretty topper, complete with a printed digi and sweet little butterfly. (If you would like instructions, search for "Treat Topper Bags" on google or Pinterest. Anything goes for this topper- stamp, emboss, layer on the embellishments or stickers, etc.
I can't wait to see what you come up with!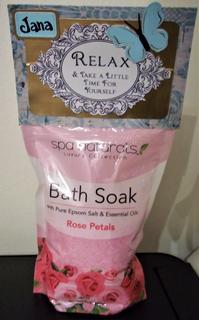 Please post your creation here by 9 AM next Monday. Mr Random.com will then select a winner who will receive a small gift.
1. Terrie
2. Golda
Mr. Random just picked #1. So... Terrie, please be watching your mailbox for a little packet of fun!
And, Thanks, Golda for also playing along this week!