As we head into 2020, I thought a nice challenge would be Random Acts of Kindness (RAKs). While an unexpected note of care to a family or friend will absolutely count, I am going to challenge you to think outside of your circle of family and friends. It doesn't need to be a big grandiose gesture, because ALL KINDNESS MATTERS.
If you need some help getting the creative juices flowing, here are some suggestions:
- Leave a card for your favorite waiter/waitress that you always ask for their station
- A note to that cashier you seek out because they are fast and NICE
- The local police or fire station for keeping you safe 24/7
- A shut in that would enjoy some blank cards to send out
- The Red Cross Donation Center because what they do really matters
- Drop off some cards to a local nursing home
I made some bookmarks that I'm going to slide into books at the library.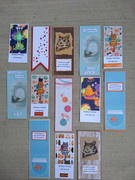 RAK Players:
1. Terrie's sister
2. Golda
3.
4.