https://www.youtube.com/watch?v=b-VAxGJdJeQ
This song brought me back to my teens! This week's challenge is to make a twist card (and you will shout YEHAW! when you're done). This was my first attempt and was easier than I expected. I figured I should push myself to do something new since I'm home so much right now. Here's a couple videos for you to follow.
This is the one I used:
https://www.youtube.com/watch?v=SkjEiJhn9Ms&t=727s
But this one by MayMay has directions for different sizes:
https://www.youtube.com/watch?v=4NZ2gz3eOEw&t=911s
If you haven't made one before, the only tricky part is the operational piece. MayMay has a great tutorial on this part of the card but the beginning of her video is a little confusing for a newbie because she's talking about so many different sizes.
Here's my sample. I left it unadorned until I figure out who it's going to and for what occasion.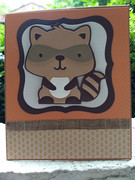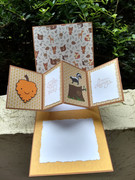 Twisted Sisters (& Brother):
1. Terrie
2. Golda
3. Barry
4. Kathy