If you haven't seen The Incredibles, they are a normal looking family with hidden super powers. So your challenge is to create a card that appears "normal" on the outside but has a surprise of some sort inside (i.e. explosion card, box card, twist card, pop up card, etc.). Here's a little clip of The Incredibles for your viewing pleasure:
https://www.youtube.com/watch?v=sJCjKQQOqT0
Since I'm traveling all day on the 21st, I'll give you an extension on deadline till Monday night, 9/21.
Here's my sample: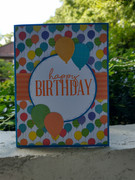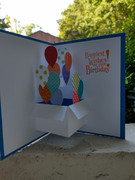 Incredible Players:
1. Terrie
2. Golda
3. Barry
4. Kathy