It's a classic! This week's challenge will be to create a card or project that has something to do with rain.
Here's a clip that is sure to bring a smile to your face.
https://www.youtube.com/watch?v=D1ZYhVpdXbQ
I found this cute Wellie on clearance in Hobby Lobby. Thought to myself, "Do I really need this?" Yep, guess I did!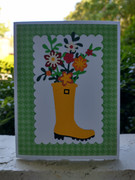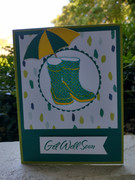 Post a photo of your project by Sunday 10/18 by midnight and you'll be put in a drawing for a prize.
1. Barry
2. Kathy
3. Golda
4.