When spending time with my sister at Mayo Clinic following her Stem Cell Replacement surgery, I had lots of time to myself when she was resting. I was glad that I planned ahead and brought some crafts to work on. I spent hours happily making Asian paper dolls embellishments so am using one on my card.
My challenge for you is to use an embellishment as the focal point of your card. And... if you use an embellishment that you created [flowers, card candy, etc.] you'll get your name put into the drawing twice.
You have Monday, Sept 10 at 7 AM to enter your card. I'll then draw a winner via Mr Random.org.
Hope you can join in on the fun.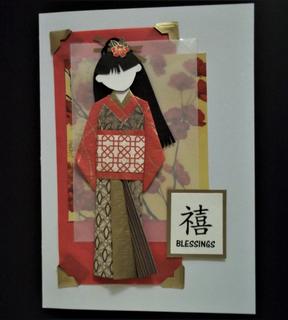 Entries:
1. Trudi
2. Trudi
3. Elaine
4. Elaine
5. Golda
6. Golda
7. Terrie
8. Terrie
9. Barry
10. Barry