Chicken Month!!! But it's also Better Breakfast Month, Classical Music Month, Fall Hat Month, Honey Month and Little League Month. So, your challenge is to make a card/project that will fit into one of these categories - your choice.
I still miss my chickens so went with fowl cards, LOL!
Love this chicken paper I got from Ellie!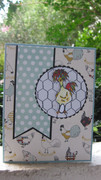 This one needs a little something-something but to tell you the truth, I have too many other chickens to fry right now so when I get the chance, I'll add a little more to it. I'm headed out to 2 cat jobs for 3 weeks; during a hurricane. Ack.