I loved learning a new fold last week... and was reminded how much I like adding folds to my cards. Also made me curious about the preferred folds of my favorite paper artisans... YOU!
So... my challenge is for you to make a card that includes your favorite fold. It can be a simple or complex fold. And, if you don't already have a favorite fold, you might want to visit my "go-to site" when I am looking for inspirations- Beccy's Place. [http://beccysplace.blogspot.com.au/2011/05/z-of-folded-cards.html]
Paper artisan and digi image designer, Beccy Muir, is also a really sweet person. [I'm a member of her design team and really enjoy working with her.] Beccy has put together a large collection of tutorials for dozens and dozens of different folds. Some are very basic (A-fold) to very complex (Serviette/Napkin Fold). An added note- when I just visited I noticed that some of the links appeared to be broken. I emailed Beccy and discovered that she's been adding a few "holding spots" for new tutorials that she plans to add. So, if you see one of those options, stop back in the future and it might be active.
For my card I used a very basic tri-fold. It is so basic that I couldn't even find a tutorial that I could share. I basically cut a strip from cardstock, 5.5 x 11 inches. I scored the strip at 4.25 and 8.5 inches. When folded, this leaves a flap that is about 2.5 inches wide. I attached the main pirate image here... so that he can peek through the frame on the front of the card. So fun.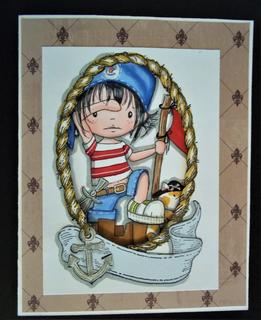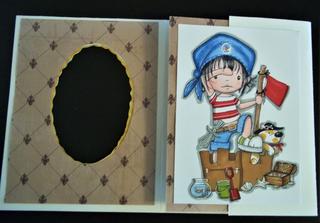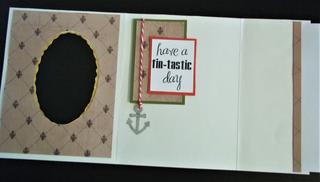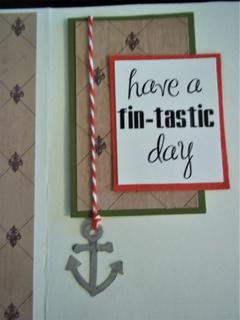 Please enter your card into this challenge by midnight on Sunday April 21. I'll use random.com to select a winner who will receive a small prize from me. Have fun creating.
Entries-
1. Terrie
2. Golda
3. Elaine
4. Trudi
5.
6.