Hello once again, my second challenge for today is from the musical "Seven Brides for Seven Brothers" based on the short story "The Sobbin' Women" by Stephen Vincent Benet. Its a western musical about 7 unruly men, the oldest takes a bride to help with the "chores and such" but Millie has plans of her own....she promptly begins teaching the brothers proper behavior, and most importantly, how to court a woman. But after the brothers kidnap six local girls during a town barn-raising, a group of indignant villagers tries to track them down. This is my all time favorite musical that has ever been written, I have even had the good fortune to have performed in 3 different versions as three different brothers at three different theaters. I adore this show. Here is a clip from the movie:
https://www.youtube.com/watch?v=V0xxT0glNsQ
My "7 brides....." inspired card is for you to create a card using only 7 items on your card, no more and no less. Your card base doesn't count. For my example: on top of my brown card base I mounted a smaller white card (1) I stamped the sentiment at an angle on a second smaller cut piece of white card (2). I cut the DP at an angle for the bottom portion (3), I added brown sparkly washi tape to cover the seam (4), I wrapped twine around the card on top of the washi tape (5), I colored my little viking image with my copic markers, cut it out and mounted it (6) and finally I added just a little red bling in the center of the compass (7):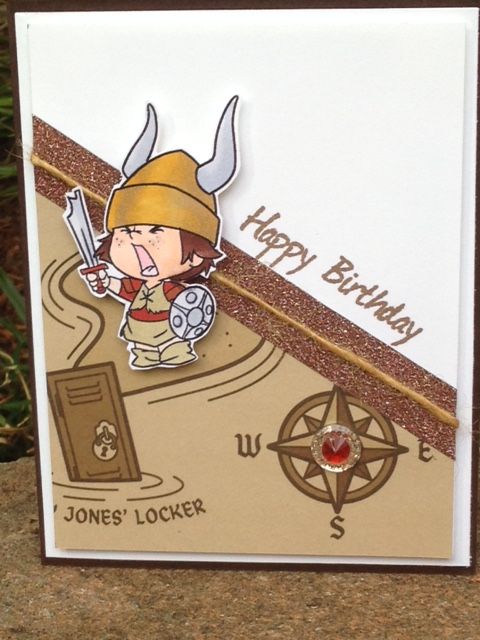 Each person that plays along with my challenge and posts a picture of your entry by midnight Tuesday 6/18/19, will be entered into a drawing for a random winner to receive a small prize from me.
I can't wait to see what you come up with!
1. Trudi
2. Kathy
3. Golda
4. Elaine
5. Terrie