In honor of Dr. Seuss's birthday, today's challenge is to create a Seuss inspired card. Go all out or just a nod to Seuss, it's up to you.
I used some Christmas paper and drew some black lines between as an interpretation of The Cat In The Hat - hat along with a Dr. Seuss quote. The card is going to my pet sitting friend. We went and met 2 new dogs on Friday and both got bit (nothing serious, though I managed to come away partially undressed). Thought this was an appropriate quote. We will be talking and laughing about this visit for years to come!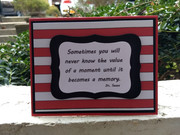 Green Eggs & Ham players:
1. Terrie
2. Golda
3. Kathy
4.