Good morning everyone and welcome to the first day of the "Platform 9 3/4" spring crop! Aparecium is a revealing charm from the Harry Potter books that "will force invisible ink or other hidden message to appear. It is also possible this spell can be used to make other things reveal themselves." Hermoine Granger attempts to use this charm on Tom Riddle's diary but nothing appears as that wasn't the enchantment that was placed on the book.
My challenge for you this week is to do a "Magic Slider" card. I have to admit this was my very first attempt at doing this technique and this crop allowed me to try it out. I have to say it is quite magical to watch the colors appear right before your eyes. Here are my examples: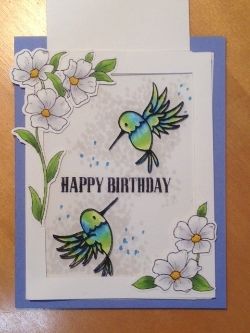 Here is a video link on how to do this:
https://www.youtube.com/watch?v=Ed5_o926A_s
This does take a bit of work but it is soooooo worth it to see this in action. I hope you get a chance to play.
You have until midnight on Tuesday, February 27, to upload a picture of your creation for this challenge to be entered into a drawing for a small prize. Winner will be posted on Wednesday, February 28.
Now let the magic begin! APARECIUM!
Those appearing:
1. Kathy
2. MarjiBelle
3. Golda
4. Trudi
- WINNER!!!
Congrats Trudi your package will be sent off later this week. Thank you to my brave soldiers for creating with me this week!