When all the animals came down the stairs of the theater, it gave me chills. It was magical! Today's challenge is to create a card or other paper project with an African animal in it. (You can get ideas from the video or google.) Here is the opening number, The Circle Of Life:
https://www.youtube.com/watch?v=qLFj9GWLN2w
My sample is my Father's Day card - since my dad has 3 kids, it was perfect. I adore this image.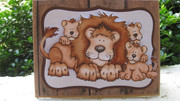 You have until midnight Tuesday, June 18th to post a photo of your project to be in a random drawing for a prize. Can't wait to see what you all come up with!
Crazy animal players:
1. Trudi
2. Terrie
3. Barry
4. Kathy
5. Golda
6. Erika